Thursday, February 22, 2007
Wednesday, February 14, 2007
Fine so I couldn't be all anti-Val's the whole day after all.Not after seeing Shiv Sena people literally raid the parks in Lucknow on the telly.Making all the guys there bend over and murga-fy.
And I thought we were a free country.
[Were, not are.]

Anyway, Orkut's been decked up.....



.........and so has Google.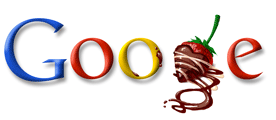 Hmm.
*sighs dejectedly*
So I lose.


Happy Val's Day!!


to the ze love-struck foo in particular.
Monday, February 12, 2007
Monday, February 5, 2007
Thursday, February 1, 2007